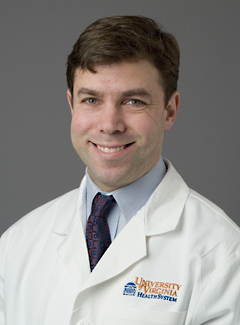 Kenneth C Bilchick, MD
Department:
Medicine
Division: Cardiovascular Medicine
Title: Associate Professor of Medicine
ABMS Certification: Internal Medicine; Cardiovascular Disease; Clinical Cardiac Electrophysiology
Contact Information
Primary Location:
Heart and Vascular Center
Second Floor
1215 Lee St.
Charlottesville, VA 22908
Phone: 434.243.1000 | Fax: 434.244.7551
Other Locations:
Specialty Care Augusta
Biography
Dr. Bilchick specializes in cardiac rhythm problems, including atrial fibrillation, atrial flutter, supraventricular tachycardia (SVT), and ventricular tachycardia (VT). He performs a full range of procedures to help correct rapid or irregular heart rhythms, which can cause a variety of symptoms (e.g., fatigue, shortness of breath, chest pain, light-headedness, fainting). During catheter ablation procedures, areas of the heart causing rhythm abnormalities are targeted in order to restore normal heart rhythm. Dr. Bilchick also has advanced expertise in pacemakers, defibrillators (ICDs), and cardiac resynchronization therapy (CRT). During his time at UVA, he has developed a tailored pre-op and post-op protocol for patients receiving CRT to improve heart failure symptoms.
Dr. Bilchick maintains an active research program in the use of cardiac magnetic resonance imaging (CMR) for patients with arrhythmias and heart failure; evaluation of advanced treatment options for atrial fibrillation; and outcomes evaluation in Medicare patients with heart rhythm disorders and heart failure. He has found that CMR -- the gold standard for evaluation of cardiac function and scar -- is very useful to helping to guide therapy for heart rhythm patients, because many of these patients have scarring in the heart or abnormal heart function. Dr. Bilchick has a grant from the National Institutes of Health aimed at using CMR to improve outcomes for patients with heart failure who qualify for CRT. He is also involved in integrating CMR technology with ablation of atrial fibrillation at UVA, developing new atrial fibrillation ablation protocols, and evaluating new drugs for atrial fibrillation. A recent publication of his discussing Medicare outcomes attracted widespread interest and is influencing practice in this area.
Dr. Bilchick has an MS degree from the University of Virginia in patient-oriented clinical research, and is the author of over 30 peer-reviewed publications. He continues to pursue patient-oriented research to help offer the latest technology and procedures to patients with heart rhythm disorders and heart failure.
Dr. Bilchick has lived in Spain, Latin America and the Middle East and speaks Spanish fluently. He enjoys spending time with his family, being outdoors and playing the piano.
Awards
Ruth L. Kirschstein National Research Service Award (2003-2006)
Golden Key International Honor Society, Member (2009-Present)
American Heart Association Scientist Development Grant (2009)
National Institutes of Health K23 Patient-Oriented Research Career Development Award (2009-Present)
Invited Peer Reviewer (American Journal of Cardiology, American Journal of Physiology-Heart and Circulatory Physiology, Circulation, Circulation Arrhythmia and Electrophysiology, Heart Rhythm Journal, International Journal of Cardiovascular Imaging, Journal of the American College of Cardiology-Cardiovascular Imaging, Journal of Cardiovascular and Translational Research, Journal of Electrocardiology, Journal of Nuclear Cardiology, Physiological Genomics)
Publications