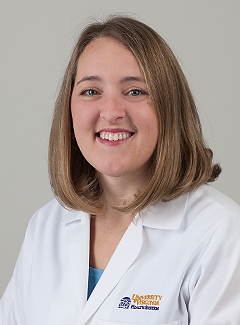 Kimberly J. Dowdell, MD
Department:
Medicine
Division: General Internal Medicine Appointment
Title: Assistant Professor of Medicine
ABMS Certification: Internal Medicine
Contact Information
Primary Location:
University Physicians Charlottesville
Second Floor
Suite 2100
415 Ray C. Hunt Dr.
Charlottesville, VA 22903
Biography
Dr. Kimberly Dowdell is a primary care doctor and an assistant professor of internal medicine. She is board-certified in internal medicine.
Dr. Dowdell spent her childhood in Fredericksburg, Va. She completed her undergraduate studies at the University of Virginia, then went on to earn her medical degree from UVA School of Medicine. She completed her residency in internal medicine at Tufts Medical Center in Boston, where she served as chief medical resident her final year before joining Tufts as an assistant professor of internal medicine and a primary care physician. She joined the faculty at UVA in 2014.
Beyond her role as a primary care physician, Dr. Dowdell enjoys teaching both medical students and residents. She serves as a member of the Committee on Residency Education (CORE). She is also the primary care lead for the Association of American Medical Colleges' eConsults grant.
Dr. Dowdell is married to Dr. Timothy Kyin, an allergist at UVA. They have two young children, a girl and a boy. In her free time, Dr. Dowdell enjoys cooking and group dance classes at the local gym.