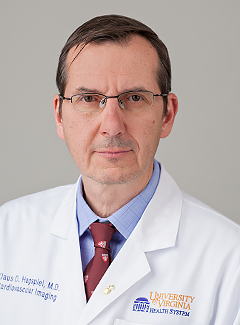 Klaus D Hagspiel, MD
Department:
Radiology and Medical Imaging
Division: Noninvasive Cardiovascular Imaging
Title: Professor of Radiology, Medicine (Cardiology) and Pediatrics
ABMS Certification: Diagnostic Radiology (ABR); Interventional Radiology (CAQ-ABR)
Other Appointment: Chief, Division of Noninvasive Cardiovascular Imaging
Contact Information
Primary Location:
Radiology and Medical Imaging
First Floor
1215 Lee St.
Charlottesville, VA 22908
Phone:
434.924.9391
Biography
A member of the UVA department of Radiology and Medical Imaging for nearly two decades, Dr. Hagspiel is board certified in diagnostic radiology with fellowship training in cardiovascular and interventional radiology. In addition to his role as rrofessor, he serves as chief of the division of cardiovascular imaging in the department.
Dr. Hagspiel's specific area of expertise is in cardiovascular computed tomography (CT) and cardiovascular magnetic resonance imaging (MRI). He has lectured extensively in the US and internationally on topics related to imaging of the cardiovascular system.
Publications