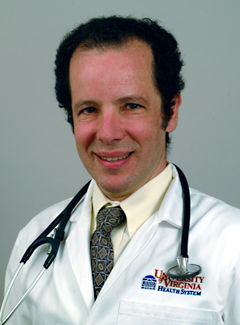 Larry Borish, MD
Department:
Medicine
Division: Allergy and Clinical Immunology
Title: Professor of Internal Medicine
ABMS Certification: Internal Medicine, 1982; Allergy and Immunology, 1985; Clinical Laboratory Immunology, 1989
Contact Information
Primary Location:
Asthma Allergy and Immunology
UVA Medical Park Northridge
Third Floor, Suite 311 
2955 Ivy Road (250 West)
Charlottesville, VA 22903
Phone: 434.924.2227 | Fax: 434.243.7288
Other Locations:
Comprehensive Allergy and Sinus Clinic
Biography
Larry Borish did his undergraduate work at Harvard College where he received his B.A. (cum laude) in music in 1975. He received his M.D. from Boston University in 1979, after which he returned to Harvard for an internal medicine residency that was completed in 1982. Dr. Borish did his clinical training in allergy/immunology at the New England Medical Center followed by several years of post-doctoral fellowship training in research in the laboratories of Dr. Ross Rocklin and Dr. Lanny Rosenwasser.
Dr. Borish was a faculty member at Tufts Medical School prior to his move to Colorado in 1989. From 1989 to 1999 he was an associate professor in medicine at the University of Colorado Health Sciences Center and a staff physician/principal investigator at the National Jewish Medical and Research Center. He is currently a Professor of Medicine at the University of Virginia and holds appointments in the Asthma and Allergic Diseases Center, the University of Virginia Cancer Center, and the Carter Immunology Center. He is on the editorial board for the Journal of Allergy and Clinical Immunology, and is an Associate Editor of the American Journal of Rhinology & Allergy. He has recently been elected to the board of directors of the American Board of Allergy and Immunology. His NIH-funded research interests include immune and molecular mechanisms of cytokine genes and cysteinyl leukotrienes in upper and lower airway allergic inflammation.
In particular, his laboratory has been investigating molecular mechanisms of aspirin-exacerbated respiratory disease, focusing on the role of cysteinyl leukotrienes and leukotriene receptors. More recently his laboratory has been involved in wide-ranging collaborative studies at the University of Virginia addressing mechanisms of rhinovirus-mediated asthma exacerbations. These studies focus on the role of innate immunity as well as expression of a high Th2 /low IL-10 cytokine signature by RV-targeting CD4+ and CD8+ T cells.
His clinical interests include chronic sinusitis, severe asthma, aspirin-exacerbated respiratory disease, primary immune deficiencies, and autoimmune mechanisms in chronic urticaria. He continues to play the oboe on rare occasions but is not prepared to give up his day job.
Awards
2002: John McGovern Lectureship, American College of Allergy, Asthma, and Immunology
2003: Pfizer Visiting Professor Award, St. Louis University, St., Louis, MO
2004: Betty Wray Lectureship, American College of Allergy, Asthma, and Immunology
2005-2018 Best Doctor in America® (Allergy/Immunology) by Best Doctors, Inc.
2013-19: American Board of Allergy, Asthma, Immunology, Board of Directors