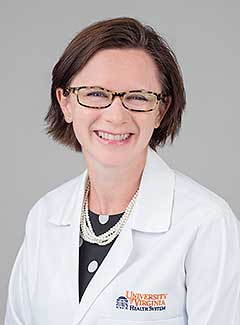 Laura P Smith, MD
Department:
Obstetrics and Gynecology
Division: Reproductive Endocrinology and Infertility
Title: Assistant Professor
ABMS Certification: General Obstetrics & Gynecology Reproductive Endocrinology/Infertility
Contact Information
P.O. Box 800712
Charlottesville, VA 22908-0712
Phone: 434.924.1955 | Fax: 434.982.1841
Other Locations:
General Gynecology
Biography
Dr. Laura Smith was born in Charlottesville, Virginia. She is married and has two sons and a daughter. She spent time in Missouri and Alabama growing up, and returned to the University of Virginia for college. She studied both science and archaeology, and earned a Bachelor of Arts with Highest Distinction in 1999.Dr. Smith attended the University of Virginia Medical School and graduated in 2003. She then completed her four-year Obstetrics and Gynecology residency at the University of Virginia.
In 2007, Dr. Smith was chosen to complete her three-year Fellowship in Reproductive Endocrinology and Infertility at Beth Israel Deaconess Medical Center and Boston IVF, affiliate programs of Harvard Medical School. She then returned to Charlottesville in 2010 and has been practicing as a Reproductive Endocrinology & Infertility specialist since then.
Dr. Smith has worked especially hard to increase awareness and access to fertility preservation counseling and treatment for patients facing cancer and cancer treatment. She is a fellow of the American College of Obstetricians and Gynecologists and is sub-specialty certified in Reproductive Endocrinology and Infertility. She is a member of the Association of Women Surgeons and the Society of Reproductive Endocrinology and Infertility.