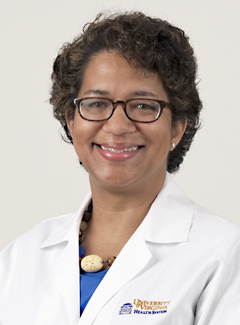 Laurie R Archbald-Pannone, MD
Department:
Medicine
Division: General Medicine, Geriatrics and Palliative Care
Title: Associate Professor of Medicine
ABMS Certification: Internal Medicine;Geriatrics
Contact Information
Primary Location:
University Physicians JABA
JABA: Senior Healthcare
Suite 3 
674 Hillsdale Dr.
Charlottesville, VA 22901
Phone: 434.964.1333 | Fax: 434.964.1432
Other Locations:
Complicated C. difficile Clinic
Biography
Laurie Archbald-Pannone, MD, MPH, AGSF, FACP, is a physician specializing in geriatric medicine and an associate professor of medicine at UVA. She is the medical director of the UVA Geriatrics Outpatient Clinic at JABA (Jefferson Area Board for Aging). This is an outpatient clinic located at JABA treating elderly patients in the community in geriatric primary care or geriatric consultation.
Dr. Archbald-Pannone earned her bachelor's degree in the history of science, medicine and technology from The Johns Hopkins University and her medical degree from the Vanderbilt School of Medicine. She came to UVA in 2002 for residency in internal medicine. She then completed an infectious diseases research fellowship focused on Clostridium difficile (C. diff) infection, earned a master of public health and completed a fellowship in geriatric medicine. She joined the UVA faculty in 2008. She has also received the honor of fellow from the American Geriatrics Society and the American College of Physicians.