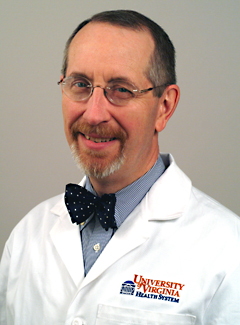 Lawrence H Phillips II, MD
Department:
Neurology
Division: General Neurology Appointment
Title: T.R. Johns Professor of Neurology
ABMS Certification: Neurology, 1983; Electrodiagnostic Medicine, 1989; Clinical Neurophysiology, 1992
Other Appointment: Vice-Chair, Department of Neurology
Contact Information
P.O. Box 800394
Charlottesville, VA 22908-0394
Phone: 434.924.5361 | Fax: 434.982.1850
Other Locations:
ALS Clinic
Adult Neurology Clinic
Biography
Dr. Phillips has been vice-chair of the Department of Neurology at UVA for 21 years. His specialty is neuromuscular diseases, with a particular focus on myasthenia gravis and ALS.
Dr. Phillips was born and raised in West Virginia, and earned his undergraduate degree from Princeton University. After graduating from West Virginia University School of Medicine, he completed an internal medicine internship at the University of Wisconsin Hospitals and a neurology residency at the Mayo Clinic, followed by a fellowship in clinical neurophysiology at Mayo. He joined the UVA faculty in 1981.
At the UVA School of Medicine, Dr. Phillips chaired the promotions and tenure committee, and is currently the chair of the endowed chairs committee. He also recently completed a 9-year term as member of the Board of Directors of UPG. He has served in leadership positions in various national and international professional organizations, including the American Association of Neuromuscular and Electrodiagnostic Medicine (AANEM), the American Academy of Neurology and the International Federation of Clinical Neurophysiology (IFCN).
Dr. Phillips has served as president of the board of directors for the Charlottesville chapter of the American Red Cross and as a member of the board of directors of Congregation Beth Israel synagogue. He has two adult children, and enjoys distance running, biking and hiking in the Blue Ridge mountains.
Awards
2015-2018 Best Doctors in America® List