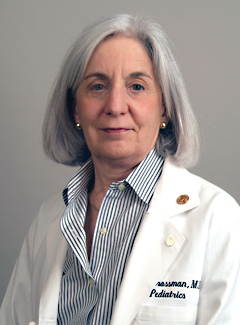 Leigh B Grossman, MD
Department:
Pediatrics
Division: Infectious Diseases: Pediatric
Title: Professor of Pediatrics
ABMS Certification: Pediatrics, 1979; Pediatric Infectious Diseases, 1994.
Other Appointment: Associate Dean for International Programs
Contact Information
Primary Location:
Pediatric Infectious Disease
1204 W. Main St.
Charlottesville, VA 22908
Phone: 434.924.5896 | Fax: 434.982.4246
Biography
Leigh B. Grossman, MD, graduated from Brandeis University and the Medical College of Pennsylvania. She completed her pediatric residency and infectious disease and critical care fellowships at the University of Virginia. She is currently the medical alumni endowed professor of pediatric infectious disease, as well as the associate dean for international programs in the School of Medicine. Previously, she served as the vice provost for international affairs at the University of Virginia.
Her clinical work is devoted to the care of hospitalized children, both as a general pediatric inpatient ward attending and as an infectious disease consultant. Her research is devoted to the prevention of hospital-acquired infection in critically ill newborns and children. She teaches at the bedside, in the classroom, nationally and internationally. She has edited and authored five books: Infection Control for the Pediatric Patient, Infection Control in the Preschool and Day Care Center, Infection Control for the Healthcare Worker and The Medical Student's Guide to Successful Residency Matching. Her newest book, The Parent's Survival Guide to Daycare Infections, is scheduled for release in October 2016.
Dr. Grossman's history of international experience includes growing up in India, service time in the Peace Corps and consulting for the Pan American Health Organization in Chile and Washington, D.C. She's also worked with Project Hope and the King Faisal Hospital in Saudi Arabia and participated in 13 years of medical service work in Haiti. She has directed the pediatric resident international medicine elective for 30 years with sites in India, Thailand, Kenya, Cambodia, Costa Rica, Peru, Ecuador, Morocco, Guatemala, India, Vietnam and Myanmar.
Related Media:
NBC29 House Call — Dr. Leigh Grossman on Daycare Infection
Podcast — Identifying, Treating and Preventing Infections in Kids
Why We Vaccinate! An Infectious Disease Expert's Perspective
Awards
2007-2018 Best Doctors in America® List
2000 Clinical Excellence Award, Department of Pediatrics, University of Virginia
2000 Medical College of Pennsylvania/Hahnemann School of Medicine Alumni Achievement Award
1992 Virginia State Council of Higher Education Outstanding Faculty Award for Excellence in Teaching
1986 McLemore Birdsong Award for Excellence in Teaching, Department of Pediatrics, University of Virginia
1975 Mosby Scholarship Award for Scholastic Excellence, Medical College of Pennsylvania
1970 Kamen Award for Outstanding Student, Medical College of Pennsylvania