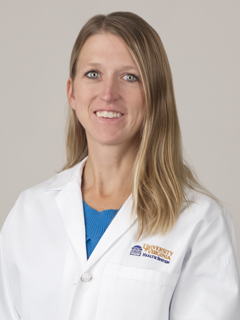 Biography
Dr. Hainstock is a board-certified pediatrician and holds a clinical faculty appointment in pediatrics at the University of Virginia. She is one of three pediatricians in the newly established practice called By Your Side Pediatrics. This practice focuses on delivering care to medically complex children in the home. She also serves as an attending on the pediatric ward team and in the newborn nursery.
She attended medical school at the University of Wisconsin School of Medicine and Public Health and completed her residency at the University of Arizona. She has special interests in childhood obesity, infectious disease and sports medicine.
Dr. Hainstock lives with her husband in Charlottesville. She is an avid and accomplished long distance runner and also enjoys hiking, camping and snowboarding.
Awards
Excellence in Teaching 2011