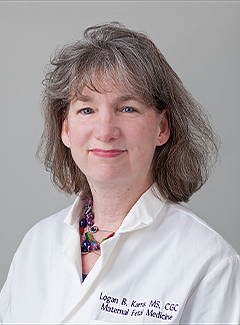 Logan B Karns, MS
Department:
Obstetrics and Gynecology
Division: General Obstetrics and Gynecology
Title: Clinical Lecturer; Clinical Associate, Center for Biomedical Ethics
ABMS Certification: American Board of Medical Genetics, 1990
Contact Information
Primary Location:
Battle Building
1204 W. Main St.
Charlottesville, VA 22908
Phone: 434.924.2500 | Fax: 434.982.0058
Biography
Logan Karns, MS, is a genetic counselor specializing in prenatal and reproductive genetics. She is certified by the American Board of Medical Genetics. Karns has special interests in ethical issues in genetics, as well as mentoring and teaching graduate students in genetic counseling. She serves on the committees of several professional organizations, including the American Board of Genetic Counseling and the Accreditation Council for Genetic Counseling.
Karns grew up in Charlottesville, VA. She completed her undergraduate studies at Mary Washington College and earned her master's degree in genetic counseling from the University of California, Berkeley. She then took a position at Kaiser Permanente in Oakland, CA, before joining UVA in 1994.
Karns is married and has two grown children.