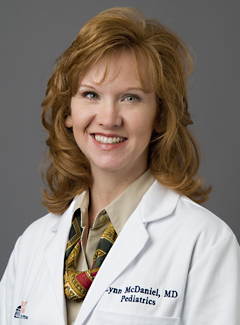 Biography
Dr. Lynn McDaniel is the director of Pediatric Hospital Medicine, as well as the medical director of Acute Inpatient Pediatrics at University of Virginia Children's Hospital. She joined the faculty in 2007.
Dr. McDaniel graduated from the Medical University of South Carolina and received her pediatrics residency training at East Carolina University, Brody School of Medicine. She spent the first six years of her career in private practice pediatrics in South Carolina. In 2001, she joined the pediatric faculty of the Medical College of Georgia as lead physician for the Chronic Complex Pediatric Clinic. She transitioned to hospital medicine at St. Joseph's Children's Hospital in Tampa, FL, before coming to UVA Children's Hospital.
She is actively involved in quality improvement research that impacts pediatric inpatient units. She serves as the lead of the children's asthma care quality group, which earned UVA recognition as a top performer in the University Hospital Consortium. She is also a part of the breastfeeding medicine services, which has led to national recognition and UVA's designation as a Baby Friendly Hospital.
Currently, Dr. McDaniel is working with a multi-disciplinary team to use electronic health records to help identify patients at risk for sepsis and initiate treatment more quickly.
Dr. McDaniel is the mother of three sons, and her husband is a pediatric cardiologist here at UVA. One of her interests is photography. She can be found with camera in-hand on the sidelines of her sons' high school cross country, track and lacrosse events.
Awards
2013 Robert Wood Johnson Foundation's Voices of Quality video contest - For a video detailing efforts to improve the quality of care for children with asthma at UVA Children's Hospital
2012 Breastfeeding Champion Award, Virginia Breastfeeding Advocates
2010-2011 Outstanding Service Award, Virginia Chapter AAP and the Virginia Pediatric Society - For leadership in the Infant Mortality/Safe Sleep campaign
2010 Injury Prevention Recognition Award, Virginia Department of Health - For work in SIDS prevention education