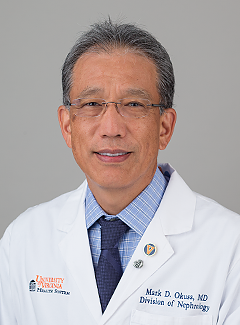 Mark D Okusa, MD
Department:
Medicine
Division: Nephrology
Title: John C. Buchanan Distinguished Professor of Internal Medicine
ABMS Certification: Internal Medicine, 1985; Nephrology, 1988
Contact Information
Primary Location:
Kidney Center Clinic
Fifth Floor
1300 Jefferson Park Ave.
Charlottesville, VA 22908
Phone: 434.924.1984 | Fax: 434.924.5848
Biography
Mark D. Okusa, M.D. is the John C. Buchanan Distinguished Professor of Medicine, Chief, Division of Nephrology and Director, Center for Immunity, Inflammation and Regenerative Medicine at the University of Virginia, Charlottesville, VA. He received his M.D., and internship and residency training at the Medical College of Virginia, Richmond, VA followed by clinical and research nephrology training at Yale University, New Haven, CT. Dr. Okusa was recruited to the University of Virginia in 1991 as a clinician investigator combining clinical care, education and research. His clinical interests include acute and chronic kidney injury. He participates in care of patients by maintaining Nephrology Clinic, attending on a general medicine ward, and attending on the nephrology consult service. Current research involves the role of inflammation and immune cells in initiating and maintaining acute kidney injury. Through funding from the National Institutes of Health he has developed the foundation for clinical trials using adenosine 2a agonists and lysophospholipid ligands in both acute kidney injury as well as in diabetic nephropathy. He is the principal investigator of several NIH grants including a T32 training grant "Kidney Disease and Inflammation". He has published over 70 original manuscripts and book chapters. At the national level Dr. Okusa has established himself in the area of acute kidney injury. He is the Chair of the Acute Kidney Injury Advisory Committee of the American Society of Nephrology (ASN) and member of the Acute Kidney Injury Network and ASN Grants Committee. Dr. Okusa served on the ASN Program Committee (2007) and the NIH Pathobiology of Kidney Disease Study Section (2004-2008) and was recently selected to Chair the Scientific Program of the American Society of Nephrology (2011). Dr. Okusa has been a visiting professor at a number of institutions and served as a plenary speaker at various national and international meetings. Dr. Okusa is an Associate Editor of Nephron Physiology, and member of the editorial board of the American Journal of Physiology:Renal Physiology, American Journal of Nephrology and Kidney International. Dr. Okusa has been listed in Castle Connally's America's Top Doctors (2001-2010) and Best Doctors in America (2005-2010).
Dr. Okusa's interest outside of work include long distance running and playing the classical guitar.
Awards
2016, 2015 Best Doctors in America® List