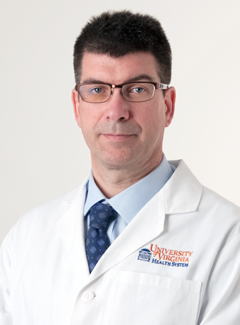 Mark S Quigg, MD
Department:
Neurology
Division: General Neurology Appointment
Title: Professor of Neurology
ABMS Certification: Neurology, 1995; Neurophysiology, 1997
Other Appointment: Director, EEG/Intensive Monitoring/Evoked Potential Laboratories; Member, NSF Center for Biological Timing
Contact Information
P.O. Box 800394
Charlottesville, VA 22908-0394
Phone: 434.924.5312 | Fax: 434.982.1726
Other Locations:
Adult Epilepsy Clinic
EEG and Evoked Potential Lab
Adult Neurology Clinic
Biography
Mark Quigg, MD, received neurology training at the University of Virginia and neuroscience training at the Karolinska Institute in Stockholm, Sweden. He specializes in the evaluation and treatment of difficult-to-control seizures and the neurological aspects of sleep medicine. He is the medical director of the electroencephalography and intensive monitoring laboratories and is an expert in using these tools to evaluate epilepsy, sleep disorders and disorders with similar symptoms. He is nationally recognized for his clinical practice and research. He holds national offices, including on the neurology board and professional societies for neurology and epilepsy.
Dr. Quigg enjoys living in Charlottesville and is an avid runner and cyclist. He is also a woodworker and has put significant sweat equity into his old house in downtown Charlottesville. He has two children with his wife, Lotta.
Awards
2011-2018 Best Doctors in America® List