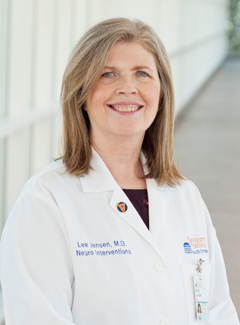 Biography
Mary Jensen, MD, is a leader in neurointerventional radiology and neurointerventional radiology research. She has been the director of interventional neuroradiology at UVA since 1998 and the director and vice chair for operations in the Department of Radiology at the University of Virginia since 2009.
Dr. Jensen specializes in performing minimally invasive treatments for neurological conditions such as brain aneurysms, stroke, carotid artery disease, intracranial vascular stenosis, brain arteriovenous malformations (AVM) and fistulas (AVF) and spinal disorders, including spinal fractures, arteriovenous malformations and arteriovenous fistulas. She helped pioneer various treatments for cerebral aneurysms, including endovascular coiling techniques. Dr. Jensen also helped develop the first percutaneous vertebroplasty technique in the U.S. used to stabilize spinal compression fractures. She has published over 100 peer-reviewed papers, presented more than 280 invited lectures, participated in multiple clinical trials and has trained numerous fellows who have gone on to practice at some of the top hospitals in the country.
Dr. Jensen received her medical training at the Medical College of Virginia and served in the Medical Core of the Virginia Air National Guard for over 14 years. She is an avid runner and enjoys flower gardening at home and helping out in the garden at her son's school.
Awards
2011-2018 Best Doctors in America® List