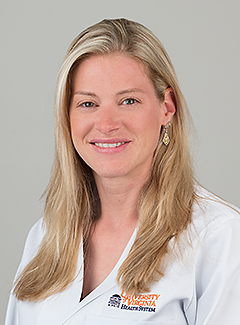 Mary Overby, BSN, MSN, FNP
Department:
Medicine
Division: Gastroenterology and Hepatology
Contact Information
Primary Location:
Digestive Health Center
1215 Lee St.
Charlottesville, VA 22908
Phone: 434.297.7210 | Fax: 434.244.9489
Biography
Mary Overby was born and raised in Waynesboro, VA. She graduated from Eastern Mennonite University with a Bachelors of Science in Nursing and worked as a nurse at UVA from 2003-2010 in NICU, Labor and Delivery and Teen Health. Overby graduated from the University of Virginia School of Nursing with a Masters of Science in Nursing and Community and Public Health Leadership. She worked in family practice and internal medicine in the Shenandoah Valley and Tidewater areas for five years before joining UVA Gastroenterology in the Inflammatory Bowel Disease Clinic. She actively participates in research and infusion center coordination.
In her spare time she enjoys spending time with her wonderful husband and two terrific kids, as well as, listening to music and doing home renovation projects.