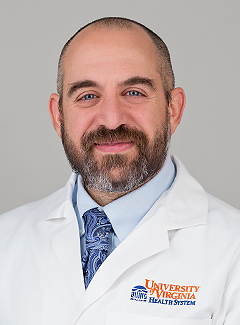 Biography
After receiving his BS in biological engineering from Cornell University, Dr. Salerno came to UVA to pursue his MD degree and PhD in Biomedical Engineering as part of the Medical Scientist Training Program. He then completed the American Board of Internal Medicine Research Pathway completing his Internal Medicine residency at Stanford University, and his general cardiology fellowship at Duke University Medical Center. During his time at Duke he completed a dedicated year in cardiovascular MRI at the Duke Cardiovascular MR Imaging Center. He returned to UVA in 2008 to complete a 2-year advanced cardiovascular imaging fellowship where he trained in CMR as well as cardiovascular CTA. He achieved COCATS Level III training in all cardiovascular imaging modalities (Echo, Nuclear, CMR, CCT), and is board certified in Echocardiography and Nuclear Cardiology.
In 2010 he joined the faculty as a clinical investigator in the Cardiovascular Medicine Division and holds joint appointments in Radiology and Biomedical Engineering. His research involves the development and evaluation of novel MRI pulse sequences and techniques to improve the clinical utility of CMR imaging. The current clinical focus of the research is on myocardial perfusion imaging, imaging of myocardial fibrosis and ventricular remodeling following myocardial infarction. His laboratory includes undergraduate and graduate engineering students as well as clinical cardiovascular imaging fellows to bring new advances into clinical practice. Dr. Salerno has been in the field of MRI for 16 years and holds multiple patents related to the development and application of novel pulse sequences for MRI. He has received numerous research awards, and has published extensively in the areas of MRI, cardiovascular MRI and multi-modality cardiovascular imaging. His research is supported by the AHA and the National Institutes of health. He is an invited reviewer for over 10 cardiovascular and imaging journals.
Outside of his academic practice, Dr. Salerno enjoys sailing, rock climbing, skiing, running, biking, and spending time in the outdoors with his wife Cherie and son Christopher.
Awards
2015-2018 Best Doctors in America® List