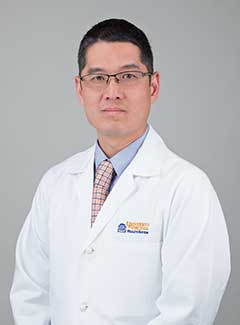 Min S. Park, MD
Department:
Neurological Surgery
Division: General Neurological Surgery Appointment
Title: Associate Professor
ABMS Certification: American Board of Neurological Surgery
Contact Information
P.O. Box 800212
Charlottesville, VA 22908
Biography
Dr. Min Park is the co-director of cerebrovascular and endovascular neurosurgery, director of the endovascular neurosurgery fellowship and associate residency program director of neurosurgery at UVA. An Indiana native, he earned a doctorate in medicine from the Indiana University School of Medicine in 2002. He completed his general surgery internship and neurological surgery residency at the University of California San Diego Medical Center.
From 2009-2013, Dr. Park served as a lieutenant commander and staff neurosurgeon at the Naval Medical Center San Diego. He deployed to Kandahar, Afghanistan in support of Operation Enduring Freedom, where he was the sole neurosurgeon for the southern half of the combat theater and performed over 150 life-saving operations in six months. He has been awarded the Navy and Marine Corps Commendation Medals, Navy Unit Commendation, Afghanistan Campaign Medal and NATO Medal, among others.
He was honorably discharged from active-duty service and completed an endovascular neurosurgery fellowship at the Barrow Neurological Institute in Phoenix. Dr. Park then joined the neurosurgery faculty at the University of Utah, where he was the director and founder of the endovascular neurosurgery fellowship and associate residency program director of neurosurgery. He was then recruited to the Department of Neurosurgery at UVA.
He is a recognized thought leader in endovascular neurosurgery/neurointerventional surgery, with over 100 peer-reviewed publications and book chapters. He is the lead editor on the seminal textbook Flow Diversion of Cerebral Aneurysms and the forthcoming textbook Evidence-Based Decision Making in Neurointerventional Surgery. Dr. Park has served organizational neurosurgery as the director of the Congress of Neurological Surgeons Cerebrovascular Oral Boards Review webinar series and has been invited to speak across the country at both national and regional meetings.