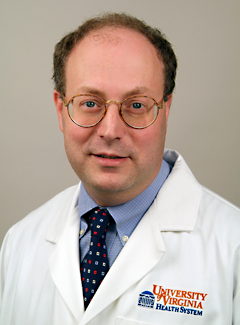 Mitchell H Rosner, MD
Department:
Medicine
Division: Nephrology
Title: Professor and Chair of Medicine
ABMS Certification: Internal Medicine, 1999; Nephrology, 2002
Other Appointment: Chair, Department of Medicine
Contact Information
Primary Location:
Kidney Center Clinic
Fifth Floor
1300 Jefferson Park Ave.
Charlottesville, VA 22908
Phone: 434.924.1984 | Fax: 434.243.6284
Biography
Dr. Mitchell Rosner is a nephrologist with a clinical focus on fluid and electrolyte disorders, acute kidney injury and polycystic kidney disease (PKD). He is a principal investigator on several trials studying novel compounds for the treatment of PKD and leads a regional PKC clinical center.
Dr. Rosner is the Henry Mulholland Professor of Medicine and chair of the University of Virginia Department of Medicine. He is board-certified in both internal medicine and nephrology.
A native of Roslyn, N.Y., Dr. Rosner completed his undergraduate studies at Harvard University and earned his medical degree from Harvard Medical School and the Medical College of Georgia. He completed his residency and fellowship training in nephrology at the University of Virginia, joining the UVA faculty in 2005.
Outside of his role at UVA, Dr. Rosner enjoys spending time outside with his family, including his three children.
Awards
2015-2018 Best Doctors in America® List