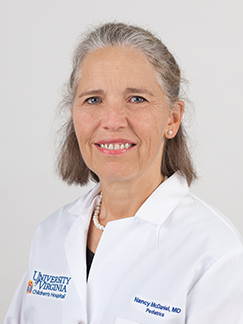 Nancy L McDaniel, MD
Department:
Pediatrics
Division: Cardiology: Pediatric
Title: Associate Professor of Pediatrics
ABMS Certification: Pediatrics, 1987; Pediatric Cardiology, 1991, 1997
Other Appointment: Vice Chair, Department of Pediatrics; Medical Director, Children's Medical Center
Contact Information
P.O. Box 800386
Charlottesville, VA 22908-0386
Phone: 434.924.9148 | Fax: 434.924.5244
Biography
Nancy McDaniel, MD, grew up in Virginia and attended UVA for both undergraduate and medical school. She completed her residency at Case Western University in Ohio and returned to UVA for a pediatric cardiology fellowship. She joined the UVA faculty in 1989 and currently serves as the vice chair of the Department of Pediatrics.
Clinically, Dr. McDaniel sees children and adolescents with known heart problems and children who may have common problems such as murmurs, fainting or racing hearts. She's also very involved with medical student education and teaches students the physical exam skills they need to be a doctor and the components of clinical reasoning. She directs the clinical skills foundational course for medical students at the University of Virginia School of Medicine and works to recruit and mentor new faculty. Additionally, Dr. McDaniel is a fellow of the American Academy of Pediatrics and American College of Cardiology and a member of the American Heart Association and Council on Heart Disease in Youth.
Dr. McDaniel is married with children. Outside of work, she enjoys walking, hiking, kayaking and traveling to favorite and new destinations, both in the U.S. and abroad.
Awards
2013-2018 Best Doctors in America® List