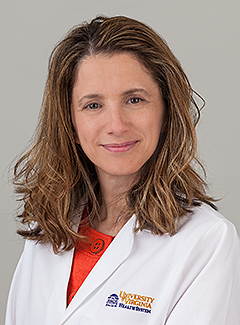 Nassima Ait Daoud Tiouririne, MD
Department:
Psychiatry and Neurobehavioral Sciences
Division: Center for Leading-Edge Addiction Research (CLEAR), Outpatient Psychiatry
Title: Associate Professor of Psychiatry & Neurobehavioral Sciences
ABMS Certification: American Board of Psychiatry & Neurology; American Board of Addiction Medicine
Contact Information
P.O. Box 800623
Charlottesville, VA 22908
Phone: 434.243.0570 | Fax: 434.973.7031
Other Locations:
Psychiatric Medicine West Complex
Biography
Dr. Tiouririne graduated from Algiers University in 1992 and trained in psychiatry both at Algiers and the Univeristy of Virginia. After joining professor Johnson's research team in 1997, first as a fellow and later as a faculty, Dr. Tiouririne developed special expertise in pharmacological treatment of alcoholism and other drugs of abuse. She is well experienced with clinical trials in addiction and is very familiar with FDA regulations and good clinical practice. She is a principal investigator on multiple NIH funded projects and a co-investigator on multiple other NIH funded grants.
Her special interests are medication development for the treatment of the addictions and understanding the underpinnings of drug craving associated with treatment response. She is an associate professor in the Department of Psychiatry and Neurobehavioral Science at UVA, as well as the director of the Center for Leading-Edge Addiction Research (UVA CLEAR). Dr. Tiouririne sees patients privately and with residents within the division of outpatient psychiatry. She teaches first year medical students, undergraduate students and residents and spends the rest of her time in her research clinic.
Awards
2010 - Editor in Chief of Frontiers in Addictive Behaviors
2008 to Present - Active member of the NIAAA AA3 scientific review committee
July 2001 - Fellowship from the 7th World Congress of Biological Psychiatry
June 2000 - MAAS Award
1998-2000 - NIAAA Research Supplement Award for Minorities Recipient
1999 - CPDD Registration Award
1999 - ACNP Travel Award



Publications