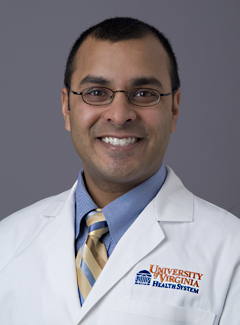 Neeral L Shah, MD
Department:
Medicine
Division: Gastroenterology and Hepatology
Title: Associate Professor
ABMS Certification: Internal Medicine; Gastroenterology; Transplant Hepatology
Contact Information
Primary Location:
Digestive Health Center
1215 Lee St.
Charlottesville, VA 22908
Phone: 434.243.3090 | Fax: 434.244.7586
Other Locations:
Endoscopy Unit
Transplant Center
Biography
Dr. Shah grew up in Rochester, NY. He attended Cornell University and graduated cum laude with degrees in chemical engineering and biomedical engineering. He then attended medical school at the Albert Einstein College of Medicine.

Dr. Shah's specialty is transplant hepatology. He is an associate professor with tenure at the University of Virginia School of Medicine. Dr. Shah completed a transplant hepatology fellowship at the University of Virginia and stayed on faculty starting in 2009.

His research interests include coagulation in liver disease and viral hepatitis. Dr. Shah has an extensive role in medical education – he is the co-chair of all organ systems in the pre-clerkship medical school curriculum, an associate program director for the internal medicine residency program, and the GI fellowship program director. He is a Harvard Macy Institute Health Educator alumnus and is currently interested in the use of technology in medical education and student engagement.

Dr. Shah is also the course director for the annual UVA GI/Hepatology Conference.
Awards
2018 UVA School of Medicine – Class of 2020 – Teaching Excellence and Professionalism
2017 Dean's Teaching Excellence Award – School of Medicine – University of Virginia
2017 American College of Physicians – VA State Chapter – Young Physician Award
2016 University of Virginia - All University Teaching Award
2016 Alpha Omega Alpha – Anne Brodie – Teacher's Teacher Award
2016 UVA School of Medicine – Class of 2018 – Teaching Excellence and Professionalism
2015 UVA School of Medicine – Class of 2017 – Teaching Excellence and Professionalism
2014 Herbert S. Waxman Award for Outstanding Medical Educator - American College of Physicians, National Chapter
2014 Harvard Macy Institute - Educational Program for Health Professionals
2013 UVA School of Medicine - Teaching Excellence and Professionalism Award
2013 Academy of Educators, American Gastroenterological Associates
2012 Academy of Distinguished Educators, University of Virginia
2012 Dean's Teaching Excellence award, UVA School of Medicine
2012 Fellow, American College of Physicians (FACP)
Publications