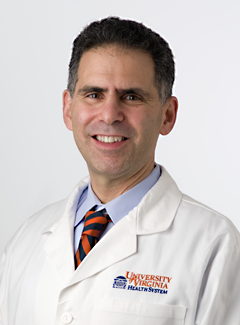 Noah S. Schenkman, MD
Department:
Urology
Division: General Urology Appointment
Title: Associate Professor of Urology
ABMS Certification: Urology
Contact Information
P.O. Box 800422
Charlottesville, VA 22908-0422
Phone: 434.243.9325 | Fax: 434.982.3652
Other Locations:
University Medical Associates
Urology Clinic
Biography
I graduated Mount Sinai School of Medicine in 1984, and after a one-year internship, joined the active duty military as a medical officer in the United States Army from 1985 - 2006. My residency in Urology was completed at Walter Reed Army Medical Center in 1995. In 1998, I completed a fellowship in Endourology, specializing in minimally invasive surgery for kidney stones and laparoscopy, at the University of California, San Francisco. I returned to the Washington, DC area to join the teaching staff at Walter Reed, and was promoted to Colonel in 2003 and became Chief of the Urology Service in 2004. I retired from active duty in 2006, and joined the teaching staff at the University of Virginia. Since joining the staff at the University, I have continued to cultivate my interests in daVinci robotic surgery, kidney stone disease, and cutting edge minimally invasive procedures, such as percutaneous cryotherapy for the treatment of kidney tumors. My research interests include kidney stones, robotic surgery, telesurgery (cooperative surgery done by surgeons located in different geographic areas), and surgical education.
Awards
University of Virginia Award for Clinical Excellence, 2009
Academy Distinguished Educators, Univ. of Virginia, 2009