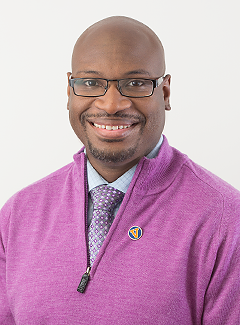 Ostranda Williams, MD
Practice Area: Primary Care, Children's
Department:
UVA Physicians Group
Division: UVA Pediatrics - Culpeper
Contact Information
633 Sunset Lane
Suite A & C
Culpeper, VA 22701
Phone: 540.825.5381 | Fax: 540.829.0945
Other Locations:
UVA Pediatrics Culpeper
Biography
Dr. Williams was born and raised in Monrovia, Liberia. He relocated to the United States with his family in 1990 due to a civil war. Most of his educational years were spent in North Carolina with a brief stay in Cleveland, Ohio to obtain his medical degree from Case Western Reserve University School of Medicine. He completed his residency at Duke University in June 2012. Dr. Williams joined CMA Pediatrics (UVA Pediatrics Culpeper) in August 2012. He looks forward to working with families in Culpeper, and is honored to provide care for children of all ages. Outside of medical practice he enjoys spending time with his wife. He also enjoys working out, cooking and reading.