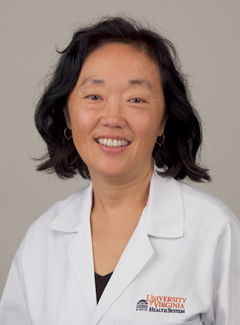 Rachel Y. Moon, MD
Department:
Pediatrics
Division: General Pediatrics
Title: Professor
ABMS Certification: Pediatrics
Contact Information
P.O. Box 800386
Charlottesville, VA 22908
Biography
Dr. Moon is the division head of General Pediatrics at UVA. She attended Emory University for her undergraduate and medical degrees, and completed her pediatrics residency at Children's Hospital of Philadelphia. Prior to joining UVA in 2015, Dr. Moon spent two decades working as a pediatrician and in various leadership roles at Children's National Medical Center.
Her husband is a physician-scientist who heads the Division of Pediatric Infectious Disease at UVA. They have two adult daughters and love to travel and explore new places as a family. Dr. Moon also likes to read, cook, swim and hike.