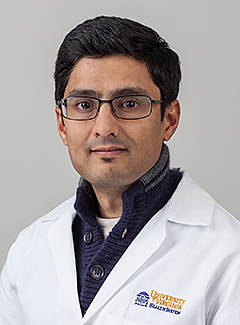 Rahul Mehta, MBBS
Department:
Medicine
Division: General Internal Medicine Appointment, General Medicine, Geriatrics and Palliative Care
Title: Assistant Professor of Medicine
ABMS Certification: American Board of Medicine
Contact Information
Primary Location:
University Hospital
1215 Lee St.
Charlottesville, VA 22908
Phone: 434.243.4288 | Fax: 434.243.7310
Biography
Dr. Mehta specializes in hospital medicine. Apart from his clinical responsibilities, he also serves as director of the orthopedic co-management program at UVA and supervises the ambulatory elective in perioperative medicine at the School of Medicine.
He was born and grew up in Jabalpur, an idyllic town in central India where he went to medical school and completed his residency training in internal medicine. His hometown's claim to fame is its close proximity to two of the biggest tiger reserves in the world. He completed a second internal medicine residency at East Tennessee State University in 2009 and then practiced in rural Oregon for five years before joining UVA in 2014.
Dr. Mehta lives in Charlottesville with his wife, Nidhi, and son, Yash. He is a self-professed tree-hugger and passionate about environmental conservation. He loves hiking, listening to music and making paper collages.