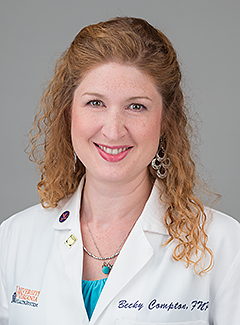 Rebekah M Compton, MSN
Department:
Family Medicine
Division: General Family Medicine Appointment
Title: Family Nurse Practitioner
ABMS Certification: American Nurses Credentialing Center
Contact Information
Primary Location:
Family Medicine
University Hospital
First Floor
1221 Lee St.
Charlottesville, VA 22908
Phone:
434.924.2022
Biography
Rebekah graduated from the UVA Family Nurse Practitioner/MSN program in 2005. She provides care for infants, children, adolescents and adults. The Primary Care Center clinic also involves caring for refugees in the International Family Medicine Clinic, which is very rewarding. Rebekah has completed the ASCCP training to perform colposcopies. Women's health care, prenatal care and preventive health care are some of her interests. She is the associate medical director for the PCC Family Medicine Clinic. Outside of work, she enjoys bike riding, hiking, reading, playing the piano and spending time with her husband and two boys.