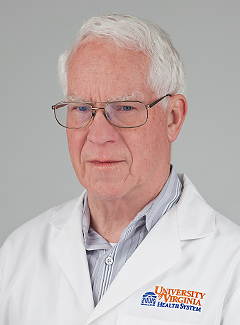 Richard J. Santen, MD
Department:
Medicine
Division: Endocrinology and Metabolism
Title: Professor of Internal Medicine
ABMS Certification: Internal Medicine, 1970; Endocrinology, 1976
Contact Information
Primary Location:
Diabetes and Endocrine Clinic
Fontaine Research Park
Second Floor, Suite 2100
415 Ray C. Hunt Dr.
Charlottesville, VA 22903
Phone: 434.924.2961 | Fax: 434.924.1284
Biography
Dr. Richard Santen is a professor of medicine at the University of Virginia. His research interests have focused on the development of aromatase inhibitors for treatment of breast cancer, mechanisms relating estrogens to breast cancer and the biology and natural history of endocrine-dependent breast cancer. He has published over 400 manuscripts and chapters, predominantly related to the role of estrogen in breast cancer development and treatment. For his work in the development of aromatase inhibitors, he received the Susan Komen Foundation Brinker International Award for breast cancer clinical research in 1993. Other awards include the Clinical Chemistry Distinguished Science Award, the Robert H. Williams Distinguished Leadership Award of the Endocrine Society, and the William L. McGuire Memorial Lectureship Award for breast cancer. He was the president of the Endocrine Society for 2014.
Awarded the 2018 Research Scholar Award of the Endocrine Society.
Awards
2018 Research Scholar Award of the Endocrine Society
2014-2018 Best Doctors in America® List
President of Endocrine Society, 2014
1993 Susan Komen Foundation Brinker International Award, for breast cancer clinical research
Clinical Chemistry Distinguished Science Award
Robert H. Williams Distinguished Leadership Award of the Endocrine Society
William L. McGuire Memorial Lectureship Award, for breast cancer