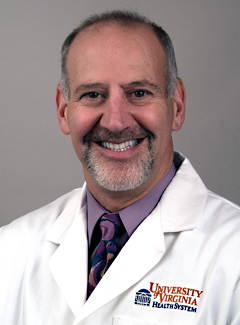 Robert A Sinkin, MD
Department:
Pediatrics
Division: Neonatology
Title: Professor of Pediatrics
ABMS Certification: Pediatrics; Neonatal-Perinatal Medicine
Other Appointment: Division Head of Neonatology
Contact Information
P.O. Box 800386
Charlottesville, VA 22908-0386
Phone: 434.924.5428 | Fax: 434.924.5244
Biography
Dr. Robert A. Sinkin, MD MPH, FAAP, FATS is the Division Head of Neonatology, as well as the medical director of the NICU and of the Newborn Emergency Transport System. He assumed these positions in 2006 when he came to the University of Virginia from the University of Rochester in Rochester, NY.
Dr. Sinkin received his fellowship training in neonatal-perinatal pediatrics and then joined the faculty, advancing to Professor of Pediatrics in Rochester. There he served as the medical director of the NICU at the Golisano Children's Hospital at Strong and the department chair of Pediatrics at Park Ridge Hospital, a community hospital in Rochester. His clinical and research interests center on pulmonary scarring as typified in the lungs of babies with bronchopulmonary dysplasia (BPD), a chronic, fibrotic, emphysematous lung disease of babies and infants.
He is an active participant in the neonatology clinical trials whose goal is to conduct trials aimed at reducing the morbidity associated with the respiratory distress syndromes of premature and term babies, including pharmacologic intervention and ventilatory strategies to reduce BPD. He is also involved in efforts to critically assess neonatal care provision and determine the cost-benefit of neonatal interventions within Virginia. Dr. Sinkin is a member of a community action team (a partnership of local health care facilities, providers, home visiting programs and children's coalitions) focusing on "Improving Pregnancy Outcome" and is a member of Virginia's Pregnancy Risk Assessment Monitoring System (PRAMS) Steering Committee.
Awards
2015-2018 Best Doctors in America® List

2015 Bedside Manner Award, Our Health Magazine; Second place

2011-2012, 2009-2010, 2007-2008, 2005-2006, 2003-2004, 1998-1999 Best Doctors in America® List
2010, 2009, 2008, 2004-2005 (Consumers' Research Council of America), Guide to America's Top Pediatricians
2009 Marquis Who's Who in America
2006 Community Champion Perinatal Network of Monroe County
Publications