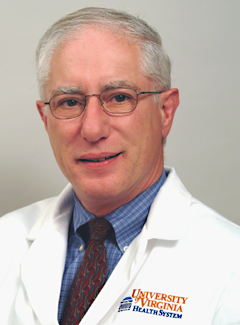 Robert S Gibson, MD
Department:
Medicine
Division: Cardiovascular Medicine
Title: Lockhart B. McGuire Professor of Medicine
ABMS Certification: Internal Medicine; Cardiovascular Disease
Contact Information
Primary Location:
Heart and Vascular Center Northridge
UVA Medical Park Northridge
Suite 201
2955 Ivy Rd. (250 West)
Charlottesville, VA 22903
Phone: 434.243.1000 | Fax: 434.244.7551
Biography
Dr. Gibson received his MD degree from UVA in 1975. He completed his residency in internal medicine and fellowship in cardiovascular medicine at UVA. In 1981, he joined the School of Medicine faculty as an assistant professor and was promoted to professor in 1987. In 1992, he was named the Lockhart B. McGuire Professor of Medicine.
During his 30 years as a member of the clinical staff, Gibson has served on over 50 Health System committees and task forces. Additionally, he's been involved in a variety of community and university-wide activities. He served as both vice president and president of the clinical staff.
He has authored or co-authored more than 300 publications.
Awards
Numerous teaching awards and honors, including:
the SCHEV Outstanding Faculty award (1996)
an ACP Laureate award (2003)
Mastership recognition from the American College of Physicians (2006)