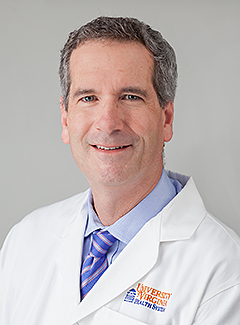 Robert W. McMahon, MD
Practice Area: Neurosciences & Behavioral Health
Department:
Neurology
Division: General Neurology Appointment
Title: Associate Professor
ABMS Certification: Neurology
Contact Information
P.O. Box 800394
Charlottesville, VA 22908
Phone: 434.924.2706 | Fax: 434.982.3544
Other Locations:
UVA Family Medicine and Specialty Care Crozet
Biography
Dr. McMahon attended the UVA School of Medicine on a Navy scholarship. After internship at Portsmouth Naval Hospital, he attended the Navy's Undersea Medicine program in Groton, CT and Panama City, FL for submarine and diving medicine. He was then assigned as the Submarine Squadron 14 Medical Officer in Holy Loch, Dunoon, Scotland. After that tour, he completed neurology residency at the National Naval Medical Center in Bethesda, MD. His last tour on active duty was at the Naval Hospital at Camp Pendleton, CA. From there he began his general neurology private practice with his colleagues at Shenandoah Valley Neurology and Augusta Health, where he held many active roles in the outpatient and inpatient clinical services and gained several years of medical staff leadership. His transition to UVA has allowed him to continue his neurology clinic care established at Bath Community Hospital.
Joining UVA's Neurology Department has afforded Dr. McMahon the opportunity to expand his professional responsibilities in the practice of general neurology, including clinical, teaching and clinical research efforts, as well as to return to serving in the US Navy as a reserve medical corps officer. Dr. McMahon, his wife and son reside in Augusta County and enjoy the many opportunities offered in the Shenandoah Valley.
Awards
Navy Commendation Medal

Navy Achievement Medal