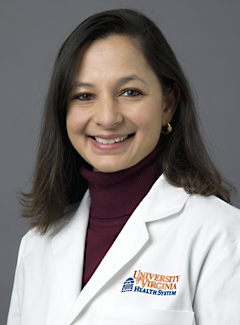 Shetal H Padia, MD
Department:
Medicine
Division: Endocrinology and Metabolism
Title: Associate Professor of Medicine
ABMS Certification: Internal Medicine; Endocrinology and Metabolism
Contact Information
Primary Location:
Diabetes and Endocrine Clinic
Fontaine Research Park
Second Floor, Suite 2100
415 Ray C. Hunt Dr.
Charlottesville, VA 22903
Phone: 434.924.1825 | Fax: 434.924.9616
Biography
Dr. Padia grew up in the Raleigh/Durham area of North Carolina. She attended Duke University and the Brody School of Medicine at East Carolina University. She completed residency training in internal medicine at the University of Virginia. Following a one-year term as chief resident of the Department of Internal Medicine at UVA, she completed a three-year fellowship in endocrinology and metabolism.
She joined the faculty in the Division of Endocrinology and Metabolism at UVA in 2007. She specializes in adrenal gland disease, steroid withdrawal syndrome, adrenal insufficiency, pheochromocytoma, paraganglioma, hyperaldosteronism, congenital adrenal hyperplasia, Cushings syndrome and resistant hypertension.
In her laboratory, she studies the hormonal mechanisms of hypertension, especially the role of the kidney in salt and water balance. Her research is funded by an R01 grant from the National Institutes of Health.
Dr. Padia also serves as director of the endocrinology system for second-year medical students at UVA. Outside of work, she enjoys spending time with her husband and two daughters, traveling, cooking, photography and tennis.
Awards
American Society of Clinical Investigation Induction, 2013
UVA Department of Medicine Young Investigator Award, 2012