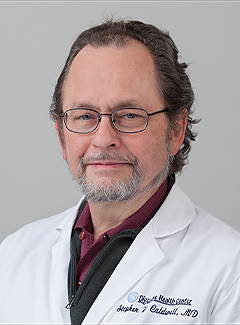 Stephen H Caldwell, MD
Department:
Medicine
Division: Gastroenterology and Hepatology
Title: Professor of Medicine
ABMS Certification: Internal Medicine, 1987; Gastroenterology, 1989
Other Appointment: Director of Hepatology
Contact Information
Primary Location:
Digestive Health Center
1215 Lee St.
Charlottesville, VA 22908
Phone: 434.243.3090 | Fax: 434.244.7546
Other Locations:
Endoscopy Unit
Biography
Stephen Caldwell, MD, is a hepatologist specializing in a nonalcoholic steatohepatitis (NASH), including its relationship to so-called cryptogenic cirrhosis, ethnic and familial relationships and the role of mitochondrial dysfunction in the disease. He and his colleagues pioneered work on cellular ballooning and the role of small fat droplets in NASH and have also worked extensively with cyanoacrylates in the treatment of gastric variceal bleeding. He is overseeing a number of treatment trials for NASH and a variety of other liver diseases and is closely involved with a network of physicians and scientists working with coagulation disorders in liver disease.
Dr. Caldwell is a native of Statesville, NC. He earned his medical degree from Wake Forest University Medical School. Dr. Caldwell completed his medical residency at a University of Virginia-affiliated program in Roanoke and Salem, VA, where he served as chief resident in his final year. He completed a gastroenterology fellowship program at UVA and a hepatology fellowship at the University of Miami. In 1992, he joined the faculty at UVA, helping to develop the hepatology program.
Now a professor of medicine in the Division of Gastroenterology and Hepatology, Dr. Caldwell is board-certified in internal medicine and gastroenterology.
Awards
2011-2018 Best Doctors in America® List