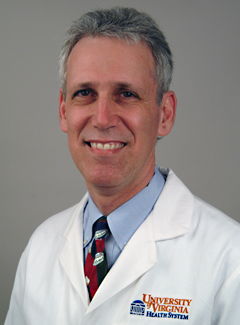 Stephen M Borowitz, MD
Department:
Pediatrics
Division: Gastroenterology/Nutrition: Pediatric
Title: Professor of Pediatrics; Professor of Public Health Sciences
ABMS Certification: Pediatrics, 1985; Pediatric Gastroenterology and Nutrition, 1985
Other Appointment: Chief, Division of Pediatric Gastroenterology and Nutrition
Contact Information
P.O. Box 800386
Charlottesville, VA 22908-0386
Phone: 434.924.2457 | Fax: 434.924.8798
Other Locations:
Pediatric Gastroenterology
Children's Hospital Specialty Clinic Winchester
Biography
I was born in New Orleans and moved to Chicago when I was two years old. I went back to New Orleans to attend college at Tulane University, where I majored in sociology and statistics and graduated cum laude in 1976. After graduation, I returned to Chicago to attend medical school at Rush Medical College. I was inducted into AOA during my third year and graduated in 1980.
My specialty is pediatric gastroenterology, hepatology and nutrition. I completed my internship and residency in pediatrics at Vanderbilt University in Nashville. I also completed a fellowship in pediatric gastroenterology and nutrition at Vanderbilt, where, in addition to my clinical work, I researched the ontogeny of intestinal phosphate absorption. In 1986, I joined the faculty at the University of South Alabama to start the division of pediatric gastroenterology and nutrition and continue my research. After 2 ½ half years there I moved to UVA, where I became the second member of the Division of Pediatric Gastroenterology and Nutrition. For the first several years at UVA, I divided my time between clinical work and research. My lab has since taken a back seat to my clinical responsibilities.
As the first faculty member at UVA to take MIS training (the first computerized physician order entry system), I became increasingly interested in clinical informatics and information systems. As a result, I became a liaison between the clinical staff and the information systems folks. That role evolved, and I served as the unofficial chief medical information officer for the Health System for more than ten years.
I am a professor of pediatrics and public health sciences and serve as chief of the Division of Pediatric Gastroenterology, Hepatology and Nutrition. I also serve as the vice-chair for education in the Department of Pediatrics and the medical director of the Battle Building.
I married my wife, Kathleen, in 1983. She also works at UVA's Children's Hospital and specializes in infant feeding. We have two adult daughters, Molly and Maggie. I enjoy gardening, photography, cooking, music, reading and visiting my daughters.
Awards
2011-2018 Best Doctors in America® List
David C. Harrison Distinguished Educator Award
All-University Teaching Award