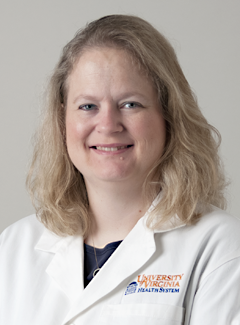 Tamila L Kindwall-Keller, DO
Practice Area: Cancer
Department:
Medicine
Division: Hematology/Oncology
Title: Assistant Professor
ABMS Certification: Osteopathic Specialty Board Certifications: Internal Medicine, Hematology, Oncology
Contact Information
Primary Location:
Emily Couric Clinical Cancer Center
1240 Lee St.
Charlottesville, VA 22903
Phone: 434.982.6406 | Fax: 434.243.0064
Biography
I am an assistant professor of medicine at UVA and the Associate Clinical Director of the Stem Cell Transplant Program. My research interests include the clinical application of umbilical cord blood for the treatment of hematologic malignancies, psychosocial assessment and quality of life measures for stem cell transplant patients and developing new therapeutic drugs for the treatment of multiple myeloma for before and after stem cell transplantation. I have worked to develop umbilical cord blood transplant and therapeutic drug investigator initiated trials. I also have extensive prior experience in being the principal investigator and directing both investigator-initiated and pharmaceutical trials. Additionally, I have been the medical monitor for several national cooperative group stem cell transplant trials.
Awards
2015, 2014, 2013 Best Doctors in America® List
Publications