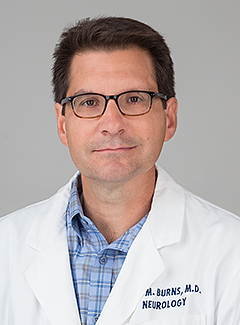 Ted M Burns, MD
Department:
Neurology
Division: General Neurology Appointment
Title: Professor of Neurology
ABMS Certification: Neurology; Clinical Neurophysiology
Contact Information
P.O. Box 800394
Charlottesville, VA 22908-0394
Phone: 434.982.6551 | Fax: 434.982.1850
Other Locations:
ALS Clinic
Adult Neurology Clinic
Biography
Dr. Ted M. Burns' clinical practice focuses on neuromuscular diseases. He is the vice chair of clinical affairs in the Department of Neurology and in 2009 was awarded Endowed Chair, Harrison Distinguished Teaching Professor. He is also the head of the Neuromuscular Disorders Division and director of the Electromyography Laboratory. Dr. Burns is board-certified in both neurology and clinical neurophysiology.
Dr. Burns obtained his undergraduate degree at the University of Kansas, where he went on to earn his medical degree. He completed his residency in neurology at the University of Virginia, as well as a fellowship in neuromuscular disease and electromyography. He completed an additional fellowship in peripheral nerve disease at the Mayo Clinic. He returned to UVA to join the faculty in 2002.
Dr. Burns has over 100 publications. His academic interests include the development and validation of user-friendly outcome measures for myasthenia gravis (MG) and other neuromuscular disorders. He is also interested in podcasting for the education of physicians, patients and families and is creator and editor of the Neurology journal's weekly podcast and the American Association of Neuromuscular and Electrodiagnostic Medicine's podcast. He is also creator of the Myasthenia Gravis Foundation's podcast series designed to educate patients and families about practical aspects of MG.
Dr. Burns is married and has three children.
Awards
2005-2018 Best Doctors in America® List
2009 Endowed Chair, Harrison Distinguished Teaching Associate Professor in Neurology
2006 Master Education Award, University of Virginia School of Medicine
2005 Dean's Teaching Award of Excellence, University of Virginia School of Medicine
"Doctor of the Year" Award, Myasthenia Gravis Foundation of America