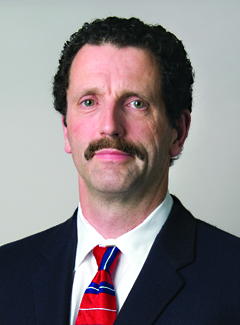 Thomas E Brown, MD
Department:
Orthopaedic Surgery
Division: Joint Replacement and Adult Reconstructive Surgery
Title: Associate Professor of Orthopaedic Surgery
ABMS Certification: Orthopaedic Surgery
Contact Information
Primary Location:
Musculoskeletal Center
Medical Office Building 2
545 Ray C. Hunt Dr.
Charlottesville, VA 22908
Phone: 434.243.1673 | Fax: 434.243.0290
Biography
Dr. Brown has been on faculty, following completion of a joint replacement fellowship in 1999. Dr. Brown specializes in complex hip and knee replacement and has developed one of the largest joint replacement practices in the state of Virginia. Dr. Brown has trained over 75 residents and 15 Fellows. He has edited and published numerous textbooks, book chapters and articles on complex joint replacement.
Dr. Brown is an avid cyclist, and enjoys time on the water at Smith Mountain Lake as well as in Maine.
Awards
2015-2018 Best Doctors in America® List
2008, 2005, 2001 UVA Orthopaedic Surgery Teaching Award
2003 OREF Research Career Development Award
Publications