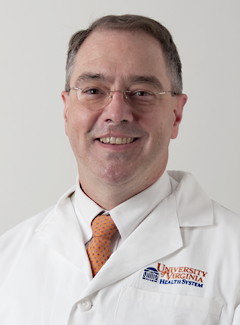 Biography
Dr. Cropley is a dermatologist, professor and chair emeritus of the Department of Dermatology at UVA. His clinical interests include general dermatology, skin disorders in medically complex patients, skin disorders in patients with kidney disease, and cutaneous lymphomas.
A native of South Charleston, West Virginia, Dr. Cropley earned a BA in biology from UVA and graduated from UVA School of Medicine in 1984. He completed his residency in dermatology at Harvard Medical School in 1988. He served on the dermatology faculties at Harvard Medical School and the University of Massachusetts Medical School before returning to UVA to join the dermatology faculty in 2008. He chaired the Department of Dermatology from 2008-2014, and directed the dermatology residency program from 2008-2017.
Dr. Cropley's wife, Cecelia, is a research administrator at UVA, and their son, Ian, is a college student. Dr. Cropley enjoys family time, cycling, travel, history (American Civil War, Highland regimental history, Second World War aviation and armor, and railroads of Virginia and West Virginia), playing jazz guitar and the highland bagpipe and walking his elderly coonhound, Harley.
Awards
2011-2018 Best Doctors in America® List