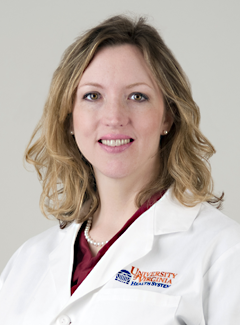 Veronica Harsh, MD
Practice Area: Neurosciences & Behavioral Health
Department:
Psychiatry and Neurobehavioral Sciences
Division: Outpatient Psychiatry
Title: Assistant Professor of Psychiatry and Neurobehavioral Sciences
ABMS Certification: Internal Medicine; Psychiatry
Contact Information
P.O. Box 800623
Charlottesville, VA 22908
Phone: 434.243.4646 | Fax: 434.243.4787
Biography
Veronica Harsh, MD, completed residency training in psychiatry and internal medicine at the University of Virginia. She completed fellowship training in behavioral endocrinology at the National Institutes of Health. Dr. Harsh is board certified in psychiatry, internal medicine and consultation-liaison/psychosomatic medicine.