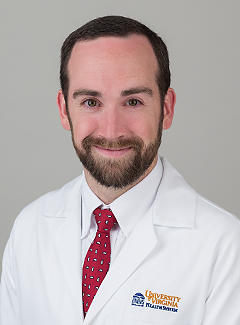 Zachary H. Henry, MD
Department:
Medicine
Division: Gastroenterology and Hepatology
Title: Assistant Professor
ABMS Certification: Internal Medicine; Gastroenterology
Contact Information
Primary Location:
Digestive Health Center
1215 Lee St.
Charlottesville, VA 22908
Phone: 434.243.3090 | Fax: 434.244.9491
Other Locations:
Transplant Center
Biography
I was born and raised in Alabama and attended Auburn University for undergraduate studies. I went to medical school at University of South Alabama and then moved to Charlottesville where I completed medical residency, gastroenterology fellowship and transplant hepatology fellowship at UVA.
I joined the faculty in 2015 and specialize in hepatology and transplant hepatology. I see patients with all varieties of liver disease in the Digestive Health Center and the Charles O. Strickler Transplant Center. In addition, I have a specific clinic for patients with non-alcoholic fatty liver disease and non-alcoholic steatohepatitis. This clinic is a multi-disciplinary clinic run in conjunction with UVA endocrinology and cardiology specialists to approach related issues of metabolic syndrome in these patients. My research interests focus on non-alcoholic fatty liver disease, but I also have an interest in kidney dysfunction in patients with cirrhosis, as well as variceal bleeding. Outside of work I enjoy playing soccer, hiking, playing music and woodworking.