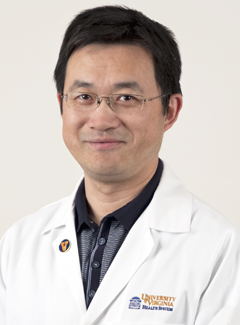 Biography
Zhiyuan Xu, MD, was born in China. After his residency, he trained at The Lady Davis Institute focusing on DNA repair and anticancer drug resistance of glioblastoma. Thereafter, he trained at The Neurological Institute at Cleveland Clinic in Ohio between 2007 and 2010. In 2010, he joined UVA's faculty in the Department of Neurosurgery. His subspecialty is gamma knife radiosurgery, and he completed his fellowship training with Jason Sheehan, MD, in gamma knife radiosurgery.
He is the principal investigator and collaborator on research projects in the field of focused ultrasound treatment. He is a grant proposal reviewer for the Focused Ultrasound Foundation. He has published more than 75 peer-reviewed articles on the topic of gamma knife radiosurgery and 17 papers on basic science research. In addition, he has published many chapters on DNA repair and gamma knife radiosurgery. He's been invited to review gamma knife radiosurgery supplement for the Journal of Neurosurgery.
Dr. Xu is married to Chelsea. Together they have two boys. In the free time, he enjoys running, biking and hiking. He also enjoys building and programming Mindstorms robots with his sons.