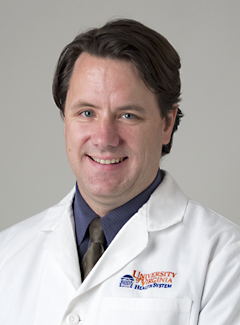 Bradford B Worrall, MD
Department:
Neurology
Division: General Neurology Appointment
Title: Professor of Neurology and Public Health Sciences
ABMS Certification: Neurology, 1998
Contact Information
P.O. Box 800394
Charlottesville, VA 22908-0394
Phone: 434.924.2783 | Fax: 434.982.1726
Other Locations:
Adult Neurology Clinic
Biography
I was born at the University of Virginia Hospital and lived in Charlottesville as a child. I returned to Charlottesville and the University of Virginia in 1997. My family and I enjoy Charlottesville and the surrounding region. Currently, I am an Professor of Neurology and Public Health Sciences where I serve as the Associate Medical Director of the Stroke Service and Director of the Acute Stroke Intervention Team. I am also affiliate Faculty in the Center for Public Health Genomics. I serve as an Associate Editor of the journal Neurology.
My clinical practice is focused in cerebral vascular (stroke) neurology. In addition to general stroke care, I have a special interest in genetic causes of stroke and stroke in the young. My time with patients includes both usual care and clinical research activities in the inpatient, outpatient and emergency department settings.
Awards
2013-2018 Best Doctors in America® List