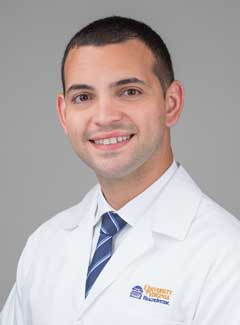 Jose L. Mattos, MD, MPH
Department:
Otolaryngology - Head and Neck Surgery
Division: Rhinology and Endoscopic Sinus Surgery
Title: Assistant Professor
ABMS Certification: Otolaryngology
Contact Information
Primary Location:
ENT Clinic
Fontaine Research Park
2nd Floor, Suite 2200
415 Ray C Hunt Dr.
Charlottesville, VA 22908
Phone: 434.924.5934 | Fax: 434.982.3965
Biography
Dr. Mattos was born in Washington D.C. but spent his childhood in Lima, Peru. He returned to Washington D.C. at the age of 12. He attended the University of Virginia for undergraduate studies in philosophy, then stayed on at the UVA School of Medicine. Early in his training, he discovered a passion for clinical research and patient outcomes, which led to the pursuit of a master in public health (MPH) degree in addition to his medical schooling. Dr. Mattos completed otolaryngology – head and neck surgery residency training at the University of Pittsburgh Medical Center. He went on to complete further subspecialization with fellowship training in rhinology and endoscopic sinus and skull base Surgery at the Medical University of South Carolina in Charleston, SC.

In 2017, Dr. Mattos joined the faculty at the UVA Department of Otolaryngology - Head and Neck Surgery. His clinical interest is the treatment of all diseases of the nose and sinuses, including chronic and recurrent sinusitis, rhinitis, allergy, smell and taste disorders, cerebrospinal fluid leaks, pituitary and skull base surgery, as well as tumors of the nose and sinuses.

He currently serves on the Quality Improvement Committee of the American Rhinologic Society as well as the Allergy, Asthma, and Immunology Committee of the American Academy of Otolaryngology - Head and Neck Surgery. His research interests involve quality improvement and patient outcomes in the medical and surgical treatment of nose, sinus and skull base diseases. He is part of a multi-institutional research group focused on improving patient outcomes in rhinology, as well as furthering the understanding of the causes and treatments of smell and taste disorders.


Dr. Mattos is married with two children. Outside of work, his interests include cooking, reading, hiking, bonsai training, and woodworking.
Publications