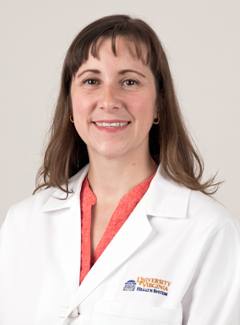 Michelle Rindos, MD
Department:
Obstetrics and Gynecology
Division: Midlife Health
Title: Assistant Professor of Obstetrics and Gynecology
ABMS Certification: Obstetrics and Gynecology
Contact Information
Primary Location:
Midlife Health
UVA Medical Park Northridge
Suite 104
2955 Ivy Rd.
Charlottesville, VA 22903
Phone: 434.243.4720 | Fax: 434.243.4733
Biography
Michelle Rindos, MD grew up in New Jersey. She received her undergraduate degree at Dartmouth College before completing medical school at the University of Rochester and residency at UVA in OB/GYN.

From 2008-2011, Rindos practiced OB/GYN in New Jersey. Rindos joined the UVA OB/GYN faculty in 2011 as part of the Division of Midlife Health. Dr. Rindos provides full-service gynecology at the Midlife Health Center at UVA. She specializes in gynecologic surgery, adolescent gynecology, primary ovarian insufficiency, menopause and hormonal changes involved with PCOS.

In her spare time, Dr. Rindos enjoys trail running, training for ultramarathons as well as camping and hiking with her husband and four children.