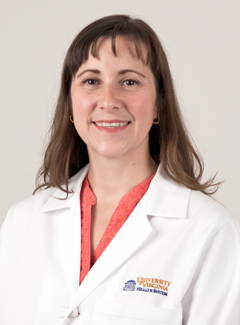 Michelle Rindos, MD
Department:
Obstetrics and Gynecology
Division: Midlife Health
Title: Assistant Professor of Obstetrics and Gynecology
ABMS Certification: Obstetrics and Gynecology
Contact Information
Primary Location:
Midlife Health
UVA Medical Park Northridge
Suite 104
2955 Ivy Rd.
Charlottesville, VA 22903
Phone: 434.243.4720 | Fax: 434.243.4733
Biography
Dr. Rindos specializes in full-service gynecology, with a particular interest in gynecological surgery, adolescent gynecology, and the hormonal changes involved with PCOS, primary ovarian insufficiency and menopause.
She was born and grew up in New Jersey, then traveled north for college at Dartmouth and medical school at the University of Rochester. Following an internship and residency in obstetrics and gynecology at the University of Virginia, Dr. Rindos spent several years in private practice in New Jersey before returning to UVA in 2011.
When not working, Dr. Rindos can often be found camping and hiking with her husband and four children. She serves on the School Health Advisory Board for Albemarle County Public Schools, is a leader of her daughter's Girl Scout troop and volunteers at her church nursery. She also enjoys trail running and training for ultramarathons.