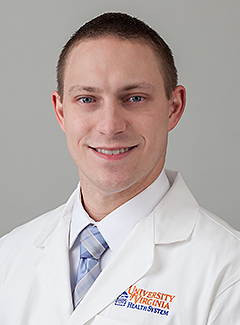 Nicholas Calabrese, BS, MS, PA
Department:
Orthopaedic Surgery
Division: General Orthopaedic Surgery
Contact Information
P.O. Box 800159
Charlottesville, VA 22908
Biography
Nicholas Calabrese is a physician assistant in the Adult Reconstruction Division of the Department of Orthopaedic Surgery at UVA. He was born and raised in Fairfax and completed both his bachelor's and master's degrees at James Madison University. He joined UVA in 2015.
Mr. Calabrese is married to a nurse who also works at UVA and has two dogs. Outside of work, he enjoys watching sports, golfing, hiking and playing slow pitch softball with his wife.