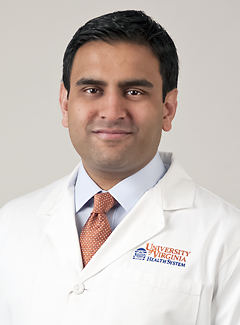 Pranav D Patel, MD
Practice Area: Cancer
Department:
Medicine
Division: Hematology/Oncology
Title: Assistant Professor of Medicine
ABMS Certification: Internal Medicine Hematology Oncology
Contact Information
Primary Location:
UVA Culpeper Medical Center Cancer Care
545 Sunset Ln.
Culpeper, VA 22701
Phone: 540.829.4352 | Fax: 540.829.4260
Biography
Dr. Patel attended Baylor University and earned a Bachelor's of Science in Biology. He received his medical degree from Texas A&M University Health Science Center College of Medicine. He completed both his residency in Internal Medicine and fellowship in Hematology Oncology through the National Capital Consortium (Walter Reed Army Medical Center). In addition, he served as a physician in the US Army and joined UVA Health System in 2014.
Dr. Patel provides community based care with UVA HOPE for a comprehensive spectrum of hematologic and oncologic disorders with access to clinical trials and subspecialty care within UVA.