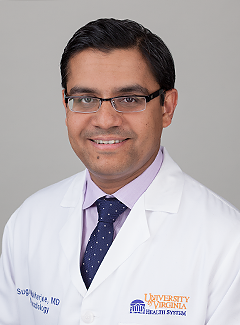 Sugoto Mukherjee, MD
Practice Area: Radiology & Medical Imaging, Neurosciences
Department:
Radiology and Medical Imaging
Division: Neuroradiology
Title: Associate Professor of Radiology
Other Appointment: Director of Neuroradiology
Contact Information
Primary Location:
Radiology and Medical Imaging
First Floor
1215 Lee St.
Charlottesville, VA 22908
Phone:
434.982.1736
Biography
Dr. Mukherjee is the Director of the Division of Neuroradiology in the Department of Radiology and Medical Imaging. He completed his training at the University of Virginia Health System and is part of the dedicated neuroradiology team that provides patients with the latest innovations in cross sectional imaging (CT and MRI) of the brain, head neck and spine. His areas of interest include brain tumors, cancer genomics, stroke, cerebrovascular diseases, head and neck cancers, parathyroid, temporal bone, image-guided procedures, dual energy CT, CT angiography, MRI, advanced MRI techniques and post-processing techniques of medical images.
In addition to his clinical role, Dr. Mukherjee is responsible for training residents and fellows in the area of neurological imaging, as well as participating in tumor boards and multidisciplinary conferences. He is currently engaged in multiple research projects related to head and neck imaging.