Adult Cystic Fibrosis Clinic
University Hospital
Second Floor
1221 Lee St.
Charlottesville, VA 22908
Location Hours:
Friday | 8:00 a.m. - 12:00 p.m.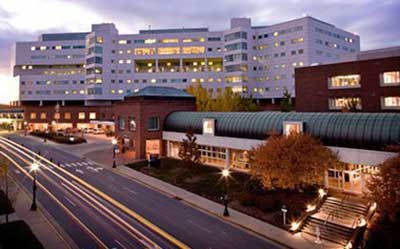 A patient drop-off lane is located in front of the Primary Care Center. Staff are on hand to offer help.
Find us in the Pulmonary Clinic.



Overview
The UVA Adult Cystic Fibrosis Clinic provides innovative treatment while helping you manage the unique issues of adults living with cystic fibrosis.

The clinic is among just 96 accredited adult cystic fibrosis programs in the nation and is one of only three accredited adult programs in Virginia.
Our Cystic Fibrosis Team
Our doctors and nurses are well-versed on the latest advancements in cystic fibrosis treatment, and they are committed to providing you with the guidance necessary to take control of your health.

Our team includes dietitians, respiratory therapists, social workers and pharmacists.
Learn more about our pulmonary and respiratory services.
Patient Information
What to Expect When You Arrive
Your first visit will last about one hour. Plan to arrive 30 minutes before your appointment time to complete pulmonary function tests.

During these appointments, one of our doctors and the nurse coordinator will meet with you to discuss your current medications, airway-clearance techniques, nutrition and other issues.

Pulmonary function tests and sputum cultures are performed during each clinic visit to monitor your lung function. Chest X-rays, blood work and other studies are performed as needed. Your prescriptions may also be renewed during your visit.
Return Visits
At the end of each visit, your provider will determine when you need to return so you can make your next appointment before you leave the office. If you have been in the hospital, ask your doctor when you need a follow-up visit and then call the office to make an appointment.

Follow-up visits take about 30 minutes, however these visits may take longer if you meet with our support specialists (nutrition, respiratory therapists and others).

We recommend that you meet with all of our ancillary providers, including our nutritionist, respiratory therapist and social worker, once a year. We also may refer you to endocrinology, reproductive medicine, gastroenterology or lung transplant, depending on your needs.
When to Call Your Doctor
If you have a fever, increased sputum production, a change in the color or consistency of your sputum or another change in your health that you consider serious, let us know. You should also notify us if you cough up a large amount of blood (more than two tablespoons) or experience a sudden onset of chest pain with or without shortness of breath.
Also let us know if you need help with a prescription renewal or medication dosage.
Helpful Links