Augusta Pediatrics
Suite 202
57 Beam Lane
Fishersville, VA 22939
Location Hours:
Monday, Wednesday, Thursday | 8 a.m. - 8 p.m.
Tuesday | 8 a.m. - 5:30 p.m.
Friday | 8 a.m. - 4:30 p.m.
Saturday | 8 a.m. - 2 p.m.
Sunday | 9 a.m. – 12 p.m.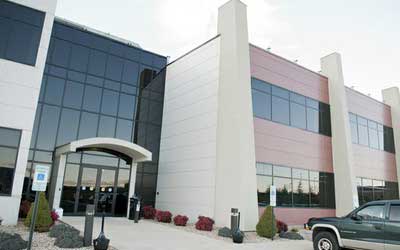 Located just beyond the Augusta Healthcare for Women Practice off Lifecore Drive, through the main entrance of the Augusta Professional Park on the left.
Overview
Augusta Pediatrics providers and staff help families raise healthy, happy and secure children by providing comprehensive medical care. We emphasize preventive healthcare with a focus on wellness, behavior, development, safety and nutrition.
We see patients from newborns through young adulthood. All of our pediatricians are board-certified by the American Board of Pediatrics.
Watch this video to learn more about Augusta Pediatrics.
Family-Friendly Facility
Our new office was designed to offer a friendly, warm, safe and welcoming environment.
Convenient Fishersville location serves families from Staunton, Waynesboro, Augusta and surrounding counties
Close to interstates 64 and 81
Ample free parking just outside the office with push button door openings to help those with strollers and car seats
Handicapped-accessible office
Three separate waiting rooms for healthy, sick and well-baby appointments
Large family-style bathrooms with changing tables
Walk-ins are welcome for minor illness and injury Monday-Friday 8:15 a.m. - 9:15 a.m.
Monday-Thursday (evening hours as needed)
We provide an On-Call Pediatric Nurse Line for after hours questions that cannot wait until morning
Later hours as needed during the winter sick season
General Services Offered
Extended hours of care, including weekends and walk-in hours
Regular health maintenance visits and immunizations
Care for illnesses and minor injuries
Healthcare specialized for teens and adolescents
Newborn care and well child check-ups
Lactation consultations
School problems, ADHD and behavior concerns
Chronic health problems
School physicals including preschool, kindergarten, sports and college entry
Assessment of growth and development
Evaluation for developmental milestones and delays
Allergy care and evaluation
Hearing and vision screening
Specialty Services Offered
Pediatric pulmonology
Pediatric sleep medicine
Pediatric urology
For Nursing Moms
Our facility offers a private nursing mom's room with a rocking chair and changing table.
We have two certified lactation specialists to help you with difficulties with latch, milk supply and feeding of premature and special needs infants, as well as weaning and medication effects.
Learn more about our pediatric services.
Patient Information
New Patients
New to the area or looking for a primary physician? To schedule an appointment or establish care, call or come by our office. If you need to transfer your child's medical records, you can use this form (PDF) or pick up a copy at the office.
Prenatal Care
"Get to Know You Visits" can be scheduled by calling the office during your last trimester. Notify your OB doctor and the labor and delivery team so our pediatricians can be there to check your newborn.
New Parents
New parent classes are offered periodically to answer questions and provide guidance on care of our littlest patients.
Breastfeeding Help for New Moms
We promote breastfeeding to improve infant health. Both mothers and babies benefit from breast feeding. Breast milk contains antibodies that protect infants from bacteria and viruses. Breastfed children have fewer ear, respiratory and urinary tract infections.
We have two lactation specialists on staff to help answer questions and work through difficulties.
Children's Reading Programs
Reach Out and Read program: Your child is given an age appropriate storybook at their well child check up beginning at 6 months through 5 years.
Dolly Parton's Imagination Library: Ask us about enrolling your child.
Local libraries offer reading programs for children of all ages:
Adolescent and Teen Care
Our pediatricians provide care tailored to the needs of preteens, teens and young adults, including routine physicals for school, sports and college. Get forms for sports physicals and entering school.
Hospital Affiliation
Our practice is part of the University of Virginia Physicians Group and the UVA Health System. We offer easy access to specialists at UVA Children's Hospital and UVA Medical Center for complicated problems needing extra evaluation. If your child needs to be admitted and cared for locally, our pediatricians also have privileges for admissions to Augusta Health.
Watch this video to learn more about Augusta Pediatrics.