Children's Fitness Clinic
Location Hours:
Monday - Tuesday, Thursday | 9:00 a.m. - 5:00 p.m.
Friday | 9:00 a.m. - 12:00 p.m.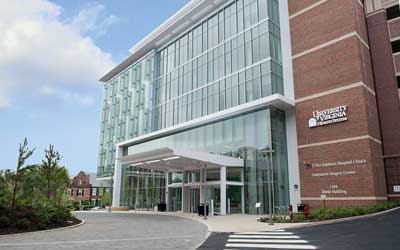 Parking: Free for patients and visitors.
Park in the 11th Street Garage.
Enter the Battle Building on Level C.
Shuttle service: Runs every 30 minutes, Monday - Friday, 8 a.m. - 6 p.m. Find shuttle stop locations.
Overview
The Children's Fitness Clinic is a six-month behavior modification program to help you and your overweight child make healthy lifestyle changes in a positive environment. Our team includes a pediatric endocrinologist, a registered dietitian and a nurse practitioner.
The program is for children who are ages six months to 21 years and who are at or above the 85th percentile in body mass index (BMI), a measure of the child's weight relative to height and a common method for assessing health. An elevated BMI increases the risk for high blood pressure, type 2 diabetes, elevated cholesterol and cardiovascular disease.
The clinic works closely with you and your child to develop an individualized treatment plan with realistic goals and dietary and lifestyle changes.
Partnership With Endocrinology
The Children's Fitness Clinic is part of UVA's Division of Endocrinology. This partnership allows us to provide your child with better access to care for insulin resistance and early onset type 2 diabetes. We also offer a clinic for children with obesity-related medical problems.
Ask Your Doctor for a Referral to Our Clinic If:
Your child's BMI is at the 85th percentile or higher
Your family has a history of type 2 diabetes, heart disease, high blood pressure or obesity
What About Insurance?
Most of our patients are referred by their primary care provider, though a referral isn't always needed. Call your insurance company and ask about coverage for our services.
What You Can Do
Ask your child's healthcare provider to measure your child's BMI at each visit. If your child is at or above the 85th percentile and hasn't been successful with lifestyle changes, talk with the doctor about a referral to our clinic.
You may contact us at any time if you're concerned about your child's weight or inactivity. It's never too soon to help your child make healthier lifestyle choices.
Learn more about our pediatric services.
Health Tips for Parents
Follow MyPlate as your map for healthy eating. Encourage your child to eat a variety of fruits and vegetables at every meal.
Encourage your child to eat breakfast every day and model this behavior.
Teach your child that his or her portions of food should each be about the size of his or her palm (likely smaller than yours).
Make 1/2 of every meal fruits and vegetables.
Choose healthy options when eating out.
Drink healthy beverages. Avoid drinks with more than 10 calories per serving. Encourage your child to enjoy the same beverages your pets do — milk and water!
For more nutrition tips, go to EatRight.org.
Your child should participate in at least 1 hour of moderate to vigorous physical activity every day. Two hours is even better!
For home fitness ideas, check out SparkPeople.com and local resources like Charlottesville City Parks and Recreation and Albemarle County Parks and Recreation for structured activities.
Reduce your child's screen time. The American Academy of Pediatrics recommends no more than 2 hours of screen time per day for children; this includes television, computers, video games and hand-held games.
Review your child's height, weight and BMI and discuss their diet and activity level with your healthcare provider at each visit.
Outreach and Collaboration