Endoscopy Monroe Lane
500 Monroe Lane
Charlottesville, VA 22903
Location Hours:
Monday - Friday | 7:00 a.m. - 5:00 p.m.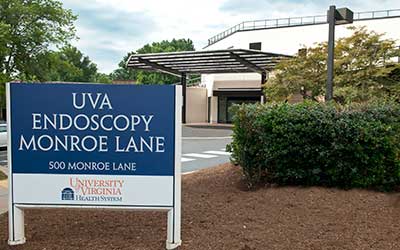 Free parking: Convenient, on-site patient parking.
Overview
UVA Endoscopy Monroe Lane provides adult outpatient endoscopy services. Procedures at our facility include:
Upper endoscopy (EGD)
Flexible sigmoidoscopy
Colonoscopy
Motility procedures
Many of our physicians are nationally recognized for their work with endoscopy.
Learn more about our digestive health services.